Get Connected
Stay up to date, without all the paper. Get coverage info, personalized screening reminders, and tips for maximizing your benefits by email.
Sign Up
Like Us on Facebook
For daily information on Medicare, wellness, and more.
Connect With Us
Wellness
Keeping your life in step with good health doesn't have to be tricky. Explore the wide range of information, services, and events available to you.
---
Alerts
New for 2018! No referrals required to see a specialist
Effective January 1, 2018, we no longer require referrals from your primary care physician (PCP) to see a specialist in the Keystone 65 HMO network.
Here are some other key features of your Keystone 65 HMO plan to remember:
Network PCP
You must choose a PCP and other plan providers that are part of the plan's network. This is most important for Keystone 65 Focus Rx HMO members because Keystone 65 Focus uses a defined network of doctors and hospitals that is a subset of our Keystone 65 HMO plan network.
If at any point, you'd like to check whether a doctor or specialist is in your plan's network, you can use the Provider Finder Tool online or call the Member Help Team at the number on the back of your ID card.
Designated sites
Since your PCP is responsible for coordinating and arranging most of your health care services, he or she has identified designated sites, or specific providers, for certain services such as laboratory, radiology, occupational therapy, and physical therapy services.
Prior authorization
In some cases, for specific covered services, your PCP may need to get approval in advance from our plan (this is called getting "prior authorization"). Covered services that need approval in advance are noted in your Evidence of Coverage. Services that require prior authorization include:
Non-emergency ambulance transport
Proton Beam Therapy
Sleep studies
Transplants
Certain durable medical equipment and related supplies
Home health agency care, including home infusion therapy
Hospice care
Inpatient hospital care
Inpatient mental health care
Select complex radiology, certain durable medical equipment, and prosthetic items
Certain Part B and chemotherapy injectable drugs when administered in the physician's office or outpatient setting
Certain outpatient diagnostic tests and therapeutic services and supplies
Certain outpatient hospital services
Certain outpatient surgery
Partial hospitalization services
Certain prosthetic devices and related supplies
Skilled nursing facility care
Reminder: Choose a primary care dentist for your routine care
If you are a Keystone 65 HMO member and have DHMO dental coverage through the plan, you must select a Primary Dental Office (PDO) for your routine exam and cleaning benefit.
You must use a participating United Concordia provider. You can find a network dentist with our online Provider Finder. If you have not selected or want to change your PDO, call the Customer Service number on the back of your ID card.
Note: If you are a member of Keystone 65 Select or Keystone 65 Focus, you have the routine dental exam and cleaning only if you have selected the Choice Program optional supplement benefits package. Employer group members should check with your benefits administrator to see if a routine dental benefit is included in your plan.
Update Magazine
Our Update magazine for Medicare members focuses on a variety of health and wellness topics, and provides members with important information regarding their health plan and benefits. The magazine covers topics ranging from recipes to informative stories on common health issues to detailed information about Medicare plans. View our latest issues of Update Magazine online by clicking on the image below — now including coupons!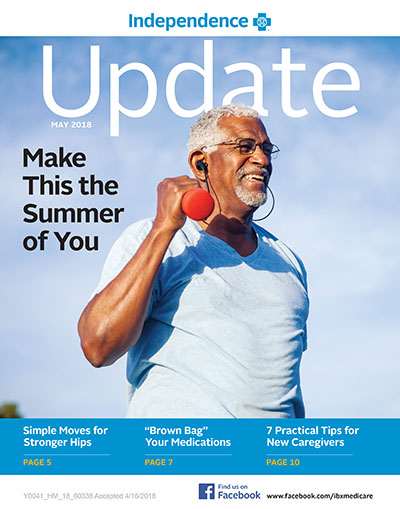 ---
Health Programs and Services
We offer a full range of innovative benefits, programs and services to give our members the information, programs, and support they need to live healthy and stay healthy.
SilverSneakers®
Keystone 65 HMO and Personal Choice 65SM PPO members are eligible for the SilverSneakers fitness program, offered at no additional cost to members beyond their monthly premium.
Get active with SilverSneakers
Designed exclusively for Medicare-eligible individuals, SilverSneakers helps participants experience their best health physically, mentally and emotionally.
Check out all the ways to use your SilverSneakers benefit.
Work out indoors
More than 14,000 fitness locations with all basic amenities and SilverSneakers group exercise classes*
Opportunities to meet new friends and enjoy social activities and events
Easy enrollment with your SilverSneakers ID card or number
Experience SilverSneakers FLEX® classes
At local parks, recreation centers and adult-living communities for options outside the traditional gym
Tai chi, yoga, walking groups and more
Enrollment with SilverSneakers ID card or number, plus ability to still attend favorite SilverSneakers fitness locations
Connect online
Fitness location and SilverSneakers FLEX class lookup
Meal plans and healthy recipes
Resources and inspiration
To find fitness locations and SilverSneakers FLEX classes, request your SilverSneakers ID card, or get additional details, visit www.silversneakers.com or call 1-888-423-4632 (TTY: 711), Monday through Friday, 8 a.m. to 8 p.m. ET.
*Class offerings, services, and amenities vary by location.
**Tivity Health, SilverSneakers and SilverSneakers FLEX are registered trademarks or trademarks of Tivity Health, Inc. and/or its subsidiaries and/or affiliates in the USA and/or other countries. ©2017 Tivity Health, Inc. All rights reserved.
Personal Health Visit program
The Personal Health Visit is a helpful and convenient way to get personalized health advice in a relaxed setting. You can schedule your appointment at any of the following locations: a conveniently located partner center, the Philadelphia Inovalon Member Center or you can request to have a licensed nurse practitioner see you right in your own home. You're eligible to receive the choice of a $50 gift card from an Independence Blue Cross preferred retailer when you complete a Personal Health Visit with no cost to you.
The visit lasts about an hour and includes a detailed health assessment.
You can ask the nurse practitioner as many questions as you like.
Your doctor will receive a summary of the Personal Health Visit.
We will mail the gift card within 30-60 days of your completed Personal Health Visit.
Why should I schedule a Personal Health Visit?
At Independence Blue Cross, we believe that your good health is the result of good teamwork, so we want to make sure that your doctor has up-to-date information about your health status. Having the results from your Personal Health Visit can be really helpful when your doctor sees you at your next appointment.
This assessment is all about you and your health. Your Medicare Advantage plan will not change in any way because of your health assessment. Your monthly costs will not be affected either. This resource is provided simply as a way to keep your doctors informed so that they can deliver the best care possible.
Independence Blue Cross has contracted with Inovalon, an independent company, to perform Personal Health Visits for Keystone 65 members and Personal Choice 65 members. For more information about the program or to schedule your appointment directly with Inovalon, call toll-free: 1-877-809-9473 (TTY/TDD: 1-866-954-3277) Monday - Friday, 8 a.m.to 7 p.m.
The Personal Health Visit program is only available to current Keystone 65 members and Personal Choice 65 members.
Healthy LifestylesSM Solutions programs*
Blue365®* — With exclusive discounts and offers on programs and services from leading national companies, Blue365 gives you an easy-to-use valuable resource to save on health-related products and services. For more information click here
Stress Management* — Get a free stress relief audio guide.
*The products and services indicated with an asterisk above are neither offered nor guaranteed under our contract with the Medicare program. In addition, they are not subject to the Medicare appeals process. Any disputes regarding these products and services may be subject to the plan grievance process.
Condition Management program
Chronic conditions, like diabetes, coronary artery disease, and COPD, are sometimes difficult to manage on your own.  Modern medicine allows doctors to offer you a variety of options for your care. The trick is to figure out what makes sense for you. And that's what the condition management program is all about.
In addition to offering access to Registered Nurse Health Coaches, condition management provides you with resources that can help you get the information and support you need to make the health decisions that are right for you.* For more information and to see if you qualify for the Condition Management program, log in to the Member Portal.
If you feel you need help from a Health Coach about a health-related issue, call 1-800-ASK-BLUE (1-800-275-2583; TTY 711), after you provide the requested information, say Health Coach. A health coach is available 24/7 to speak to you.
*Condition Management is available at no cost to Keystone 65 HMO and Personal Choice 65SM PPO members. Please refer to your member materials for the terms, limitations, and exclusions of your health care coverage, or call Customer Service at the number on the back of your medical ID card to find out if you are eligible.
Case Management
If you are facing serious illness or medical condition, or have recently experienced a major health event, then case management may be right for you.
Independence case management is a free, confidential program offered to Keystone 65 HMO and Personal Choice 65SM PPO members. Our case managers, referred to as Health Coaches, are registered nurses and social workers who pair their occupational expertise with knowledge of Independence benefits to offer you support and guidance in dealing with your complex health concerns. For more information on our case management program, log in to the Member Portal.
If you feel you need help from a Health Coach about a health-related issue, call 1-800-ASK-BLUE (1-800-275-2583; TTY 711), after you provide the requested information, say Health Coach. A health coach is available 24/7 to speak to you.
Health Management
The ibxpress.com member website helps take the guesswork out of making important health decisions. From bee stings to back surgery, referrals to reimbursements, you can find the information you need quickly and easily — experience ibxpress.com for yourself. Register today.
Stay on top of your health with these schedules of recommended well visits, immunizations, and health screenings.
Wellness Guide (ages 18 to 64)
Wellness Tools
Online tools help our members manage their health and health care activities.
24/7 health information line
Keystone 65 HMO and Personal Choice 65SM PPO members have round-the-clock access to a Health Coach for all of their health related questions and concerns. To reach a Health Coach, call 1-800-ASK-BLUE (1-800-275-2583; TTY 711), after you provide the requested information, say Health Coach.
Health Coaches
Health Coaches are registered nurses who are available to Keystone 65 HMO and Personal Choice 65SM PPO members to answer your health-related questions and address your concerns.
What a Health Coach can do for you
Available 24/7, year-round, Health Coaches can help you to:
Understand your diagnosis.
Educate yourself about your condition.
Learn to actively manage your health.
Make lifestyle choices that can reduce your health risks.
Learn self-care skills and how to follow your treatment plan.
Prepare for visits and discussions with your doctor.
Weigh the pros and cons of important decisions using evidence-based information they can provide.
Address everyday health concerns.
Contact a Health Coach
To reach a Health Coach, call 1-800-ASK-BLUE (1-800-275-2583; TTY 711), after you provide the requested information, say Health Coach.
Preapproval/Precertification for Services
Certain services require preapproval/precertification from Independence Blue Cross (IBC) prior to being performed.
If you or your patient needs services that require preapproval/precertification, please call 1-800-ASK-BLUE. Providers registered with the NaviNet® web portal may submit requests electronically for services to be rendered at an acute care facility or ambulatory surgical center.
The Care Management and Coordination (CMC) department will evaluate your request and will notify your office once a decision has been reached for those cases that require clinical review. You will be provided with a preapproval/precertification reference number based on the determination of your request. Failure to complete required preapproval/precertification may result in a reduction in payment or nonpayment for the services not preapproved/precertified.
Your office or your patient may appeal our decision or provide additional information to support the request at any time during the evaluation process. Please refer to the CMC section of the Provider Manual for Participating Professional Providers or the Hospital Manual for Participating Hospitals, Ancillary Facilities, and Ancillary Providers for more information.
Medical Policy
For more information regarding our medical policies, visit our Medical Policy Portal.
Drugs, alcohol, and tobacco
Spouses and families play a crucial role in helping loved ones stay drug-, alcohol-, and tobacco-free — and fortunately, there are a number of resources and tools that can help.
Immediate Assistance
Help quitting
Tobacco: Smokefree.gov provides free, accurate, evidence-based information and professional assistance to help support the immediate and long-term needs of people trying to quit smoking.
Alcohol: Alcoholics Anonymous (212-870-3400) is open to anyone affected by an alcohol-related disorder. There are no age or education requirements.
Drugs: Narcotics Anonymous is an international, community-based association that provides a recovery process and support network for those affected by substance abuse disorders.
Website last updated: 6/11/2018
Y0041_HM_18_56568e Approved 7/5/2018