Get Connected
Stay up to date, without all the paper. Get coverage info, personalized screening reminders, and tips for maximizing your benefits by email.
Sign Up
Like Us on Facebook
For daily information on Medicare, wellness, and more.
Connect With Us
Health and Wellness
Keeping your life in step with good health doesn't have to be tricky. Explore the wide range of information, services, and events available to you.
---
New for 2019! Telemedicine Services
Medicare Advantage members will have coverage — at no extra cost — for telemedicine visits starting in 2019. This gives members a convenient way to see an in-network clinician either by a toll-free phone number, or on a secure connection over the Internet via a smart phone, tablet or computer. Visit ibxmedicare.com/mdlive or call 1-888-961-4188 for more information.
New for 2019! Over-the-Counter (OTC) Allowance
Our Medicare Advantage plans provide an annual allowance of $120 for over-the-counter products exclusively for your use. The OTC magazine includes hundreds of products, including bandages, cold and allergy medicines, pain relievers, vitamins, and many more. You can access the catalog below or visit ibxmedicare.com/otc for more information.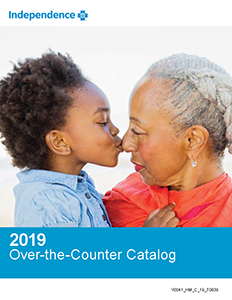 Update Magazine
Update magazine is delivered several times a year to our Medicare Advantage members. The newsletter covers topics ranging from recipes to informative stories on common health issues to detailed information about Medicare plans. View our latest issues of Update Magazine online by clicking on the image below — now including coupons!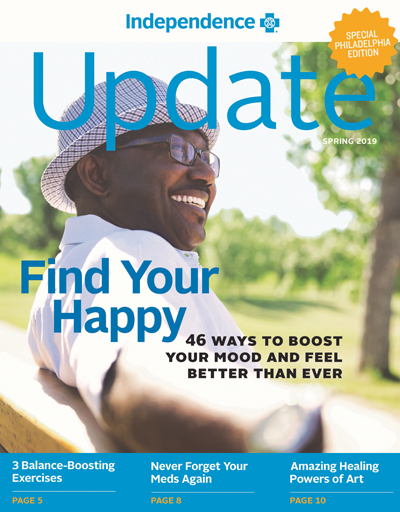 ---
SilverSneakers®
Keystone 65 HMO and Personal Choice 65SM PPO members are eligible for the SilverSneakers fitness program, offered at no additional cost. Members can work out at home or at more than 14,000 fitness locations with all basic amenities and SilverSneakers group exercise classes*, as well as meet new friends and enjoy social activities and events. To find fitness locations, request your SilverSneakers ID card, or get additional details, visit https://www.silversneakers.com or call 1-888-423-4632 (TTY: 711), Monday through Friday, 8 a.m. to 8 p.m. ET. SilverSneakers also offers the SilverSneakers GOTM app with access to easy-to-follow workout videos. Members can download the free app for iPhone or Android to get started today.
*Class offerings, services, and amenities vary by location.
**Tivity Health, SilverSneakers and SilverSneakers FLEX are registered trademarks or trademarks of Tivity Health, Inc. and/or its subsidiaries and/or affiliates in the USA and/or other countries. ©2019 Tivity Health, Inc. All rights reserved.
Personal Health Visit Program
Personal Health Visits (PHV) are visits from a licensed health professional in your home. These visits lasts about an hour and include a brief health assessment. They are a helpful and convenient way to get personalized health advice, and are offered to you at no extra cost. This service is optional, and the visits will not affect your current health insurance benefits or premiums. You will receive a call from one of our health care vendors to see if you're interested in scheduling a visit.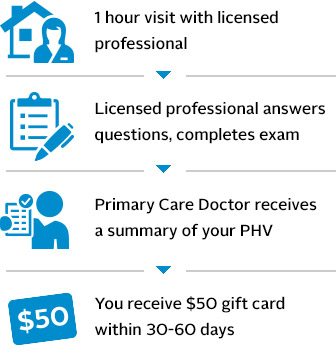 Blue365®*
With exclusive discounts and offers on programs and services from leading national companies, Blue365 gives you an easy-to-use valuable resource to save on health-related products and services. For more information, visit http://www.blue365deals.com/ibx.
*The products and services indicated with an asterisk above are neither offered nor guaranteed under our contract with the Medicare program. In addition, they are not subject to the Medicare appeals process. Any disputes regarding these products and services may be subject to the plan grievance process.
Independence Health Rewards*
Get rewarded for taking care of your health! Medicare Advantage members may be eligible to receive up to $180 in rewards for completing healthy activities, such as seeing their PCP for an annual well visit.
Learn more at https://www.ibxmedicare.com/rewards.
*Terms and conditions apply. See Rewards Programs Terms and Conditions for more information. Reward values may change at any time.
Drug Management Program
We have a program that can help make sure our members safely use their prescription opioid medications, or other medications that are frequently abused. This program is called a Drug Management Program (DMP). If you use opioid medications that you get from several doctors or pharmacies, we may talk to your doctors to make sure your use is appropriate and medically necessary.
Health Management
The ibxpress.com member website helps take the guesswork out of making important health decisions. From bee stings to back surgery, referrals to reimbursements, you can find the information you need quickly and easily — experience ibxpress.com for yourself. Register today.
Health Coaches
Sometimes you need a little extra support when you're managing a chronic condition or more complex health situation. That's when an Independence Blue Cross Health Coach can help.
Independence Blue Cross offers Keystone 65 HMO and Personal Choice 65SM PPO members free, personalized services of a Registered Nurse Health Coach who will listen to your health concerns and work with you to set, achieve, and maintain your health goals.  Health coaches provide you with an added level of support to help you stay healthy, manage your chronic condition(s), identify emerging risk, follow your doctors' treatment plan, and navigate your health journey.
What is a Health Coach?
A Health Coach is available to help you with one or more of the following:
Managing chronic conditions such as asthma, diabetes, heart disease, or multiple conditions
Coping with a serious illness or accident, like cancer or a stroke
Answering questions about everyday health concerns for you or your family
Coordinating services needed related to a hospitalization, procedure or illness
Understanding your medications and how to safely take your prescriptions
Explaining complex health issues, tests or procedures
To reach a Health Coach, call 1-800-ASK-BLUE (1-800-275-2583; TTY 711), after you provide the requested information, say Health Coach. Health Coaches may also outreach to you to offer assistance if you have had a recent medical event or have a chronic condition for which you are receiving treatment.
24/7 health information line
Keystone 65 HMO and Personal Choice 65SM PPO members have round-the-clock access to a Health Coach for all health-related questions and concerns. To reach a Health Coach, call 1-800-ASK-BLUE (1-800-275-2583; TTY 711), after you provide the requested information, say Health Coach.
Preapproval/precertification for services
Certain services require preapproval/precertification from Independence Blue Cross (IBC) prior to being performed.
If you or your patient needs services that require preapproval/precertification, please call 1-800-ASK-BLUE. Providers registered with the NaviNet® web portal may submit requests electronically for services to be rendered at an acute care facility or ambulatory surgical center.
The Care Management and Coordination (CMC) department will evaluate your request and will notify your office once a decision has been reached for those cases that require clinical review. You will be provided with a preapproval/precertification reference number based on the determination of your request. Failure to complete required preapproval/precertification may result in a reduction in payment or nonpayment for the services not preapproved/precertified.
Your office or your patient may appeal our decision or provide additional information to support the request at any time during the evaluation process. Please refer to the CMC section of the Provider Manual for Participating Professional Providers or the Hospital Manual for Participating Hospitals, Ancillary Facilities, and Ancillary Providers for more information.
Medical policy
For more information regarding our medical policies, visit our Medical Policy Portal.
Drugs, alcohol, and tobacco
Spouses and families play a crucial role in helping loved ones stay drug-, alcohol-, and tobacco-free — and fortunately, there are a number of resources and tools that can help.
Immediate assistance
Help quitting
Tobacco: Smokefree.gov provides free, accurate, evidence-based information and professional assistance to help support the immediate and long-term needs of people trying to quit smoking.
Alcohol: Alcoholics Anonymous (212-870-3400) is open to anyone affected by an alcohol-related disorder. There are no age or education requirements.
Drugs: Narcotics Anonymous is an international, community-based association that provides a recovery process and support network for those affected by substance abuse disorders.
Website last updated: 1/8/2019
Y0041_HM_19_67199c Accepted 1/28/2019